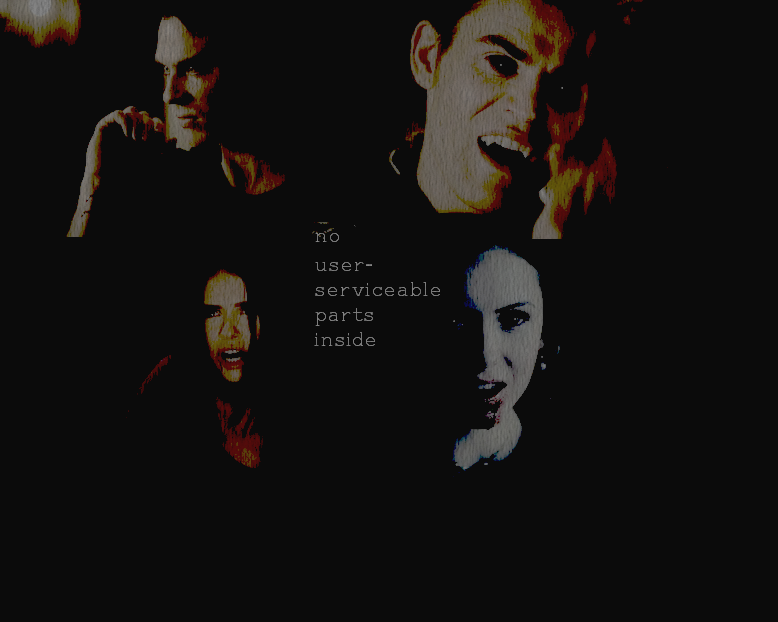 This is for
smells_corrupt, who requested a mix for the love square of doom, and gave me a prompt which wound up having nothing to do with the final product (excuse my fail). Said final product is quite lengthy and a mess tbqh; vaguely lulzy in some parts (because I couldn't resist) and substantially emo in other parts (because who are these people). Also, split up into three parts because that's the pretentious way I roll (and because regular intervals are required as a relief from these people and the force of their combined emotions tbh).





a salvatore bros + petrova doppelgangers mix
zip



[EDIT: re-uploaded zip file. individual mediafire links no longer available, sorry.]



[i]


damned if she do :: the kills * [e+k]
and i am no stranger to the strange
and all his ways
what could be stranger
than to be stuck outside your cage


afraid :: sarah fimm ** [k --> s]
i'd like to know you more
tell you you're fine
even though you're not
when you worry so much
it makes me want to cry
fragile like the leaves come fall
red yellow gold
i love them all
i guess it's just the way we love


tainted love :: marilyn manson *** [s --> k]
to make things right
you need someone to hold you tight
you think love is to pray
i'm sorry i don't pray that way


this is such a pity :: weezer [d --> k]
how is your heart, little darling
i didn't mean to get so mad
let me just hold you closely
how did things get so bad?


foundations :: kate nash [k --> d]
then i'll use that voice that you find annoying and say something like
"yeah, intelligent input, darlin', why don't you just have another beer then?"
then you'll call me a bitch
and everyone we're with will be embarrassed,
and i won't give a shit


ruin :: the pierces [k --> d+s]
this is the first day
of many years of sorrow
you won't forget my name
but i'll forget your face tomorrow



[ii]


liar :: mumford & sons [d/e/k/s]
and you lean in for your last kiss
who in this world can ask me to resist?
your hands cold as they find my neck
oh this love i have found, i detest


love is a place :: metric [e+k]
what's holding up her face?
nothing but blue skies
passage ways to windows
that don't close


the chain :: ingrid michaelson [e --> s]
i'll never say, i'll never love
but i don't say a lot of things and you my love are gone


falling away with you :: muse [e+s]
so i'll love whatever you become
and forget the reckless things we've done
i think our lives have just begun
i think our lives have just begun


obsessions :: marina & the diamonds [e --> d]
won't you quit your crying? i can't sleep
one minute i'm a little sweetheart
and next minute you are an absolute creep


inside your head :: eberg [d+e]
still water sparkles here
the calm drifts away in here
cuddle cravings addiction brings
place your coat on six strings
(inside your head)
i wouldn't want to be
inside your head




[iii]


killer :: whitley [d/e/s]
but i know you know i'm broken
holy healer be unspoken
hands are bloody; i am always on your side


lose you :: pete yorn [s --> d]
stop before you fall
into the hole that i have dug here
rest even as you
are starting to feel the way i used to


we don't eat :: james vincent mcmorrow * [d+s]
am i an honest man and true
have i been good to you at all
oh i'm so tired of playing these games
we'd just be running down
the same old lines, the same old stories of
breathless trains and worn down glories
houses burning, worlds that turn on their own


epitaph for my heart :: the magnetic fields [d/k/s]
who will mourn the passing of my heart
will its little droppings climb the pop chart
who'll take its ashes and, singing,
find them from the top of the brill building
and life goes on,
and dawn, and dawn
and death goes on, world without end and you're
not my friend


slow show :: the national [s --> d+e]
i made a mistake in my life today
everything i love gets lost in drawers
i want to start over, i want to be winning
way out of sync from the beginning


us :: regina spektor [d/e/k/s]
we wear our scarves just like a noose
but not 'cause we want eternal sleep
and though our parts are slightly used
new ones are slave labor you can keep
*because sometimes those CW promo monkeys / showrunners get their music right.
**there's also an awesome vid.
***lmfao, I COULDN'T NOT.
p.s. I owe more of these to a bunch of people so expect to see some more of my horrific artwork over the next week or so.